Media policy in Lower Saxony
One of the few areas of public affairs which the State Chancellery reserves for itself, rather than assigning it to a Ministry, is that of media policy. The State Chancellery is not only responsible for the statutory framework (in other words, media law). It is also the legal regulator for
Lower Saxony's media agency
and (on an alternate basis with other federal states) for the broadcasting companies
Norddeutscher Rundfunk (NDR)
,
Zweites Deutsches Fernsehen (ZDF)
and
DeutschlandRadio (DLR)
.
One specific area is that of film and media funding in the arts sector. It was for this purpose that nordmedia, the media company jointly operated by the federal states of Bremen and Lower Saxony, was set up in 2001. nordmedia Fonds gmbH is responsible for arts-sector film funding in the various federal states, and for funding other audiovisual content. The Lower Saxony state government contributes, as do all the other shareholders, to the available funding pool.
In addition to the two federal states, the founding shareholders include the broadcasting companies Norddeutscher Rundfunk (NDR) and Radio Bremen (RB), as well as Lower Saxony's film and media agency (Film & Medienbüro Niedersachsen, (FMB), Kinobüro Niedersachsen, the association of North-West German newspaper publishers (Verband Nordwestdeutscher Zeitungsverlage e.V., VZNV) and Lower Saxony's business and employers' association (Unternehmerverbände Niedersachsen, UVN).
And nordmedia's remit goes beyond this: in close cooperation with the relevant state government departments, it also advises (for example) the shareholders and other institutions on the use of modern information and communications technologies, develops solutions for multimedia applications, and provides ongoing support to state-run multimedia projects relating to areas such e-Health, e-Learning and the Digital Cluster initiative.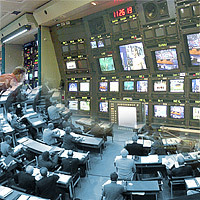 Image Copyrights

:

grafolux & eye-server