The Guesthouse of the Government of Lower Saxony
Built at the turn of the 20th century in the style of the Neo-Renaissance, this villa today houses the Guesthouse of the Government of Lower Saxony. The protected building, which has been restored at great expense, is, on account of its historical atmosphere, especially suitable for representative functions held by the Minister President and other members of the government. The decoration of the rooms takes up the themes of various different style epochs and provides glimpses of the Renaissance, Louis XVI and Empire periods.
The Guesthouse provides the backdrop to state visits, as well as to receptions for personalities from the spheres of industry, society and politics. Here, honours are awarded and events held which are to be given special significance by the distinguished environment. The accommodation and gastronomic facilities can cater for every conceivable occasion, from a working lunch for two to a buffet for 100.
And since 1947, that is to say one year after the founding of Lower Saxony, the government cabinet, or as it is officially known, the Government, also meets there.
Address:
Gästehaus der Niedersächsischen Landesregierung
Lüerstr. 5
30175 Hannover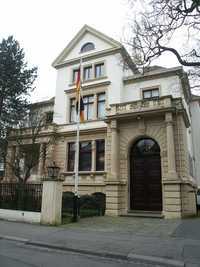 The Guesthouse of the Government of Lower Saxony